Eco-Council 2019-20
Our first priority this year has been to build upon the fabulous work of last years' Eco-Council by auditing the whole school to see if there are any more areas that could benefit from a recycling bag.
As a team we toured the whole school, identified the gaps and after receiving new bags in school – have distributed them where they are needed most.
This will enable all of our school to further strengthen our commitment to recycling over the coming year. Well done team!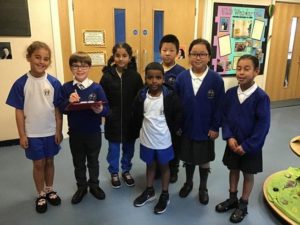 ---
'Ban the Bottle' Competition Success
Our KS2 children were invited by the Eco Council to design a building from recycled materials for the Barton Group's 'Ban the Bottle' competition. All of our shortlisted entries were judged by the Eco-council team who unanimously agreed on our overall entries from year 4 (Safa) 5 (Giselle) and 6 (Lauryn).
Congratulations to Safa who won the overall competition with her fantastic design in December 2019! It was wonderful to welcome Joanne Mould from the Barton Group into school to present Safa with a certificate and prize. Safa has won reusable bottles for every pupil in our friendship school together with a water fountain to enable pupils to re-fill their water bottles each day. This will hopefully reduce our use of single-use plastic in school. Great news!