We want to help all our children grow into caring, sharing, responsible citizens who know that they have a valued place in this world and society and can make a real difference.
We therefore work closely with our children in selecting charities to support in order to help them see how our prayers and actions ripple out locally, nationally and globally for example:
The Nugent Care Society supports children locally.
Children in Need supports children nationally.
Cafod supports children globally.
Our Harvest Festival always supports locally.
The Poppy appeal supports nationally.
This Christmas the School Council have decided to support Homeless in Liverpool (White Chapel).
Every year our choir brings joy to local Care Homes, St Joseph's Hospice in Sefton and the elders of our community at St Anne's Christmas Lunch.
---
CAFOD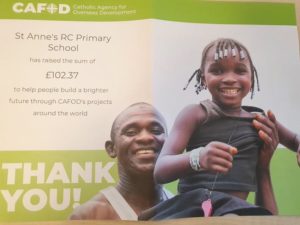 ---
NUGENT CARE GOOD SHEPHERD APPEAL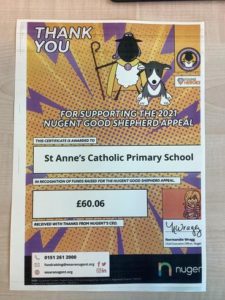 ---
ROY CASTLE LUNG CANCER FOUNDATION – CHRISTMAS CAROLS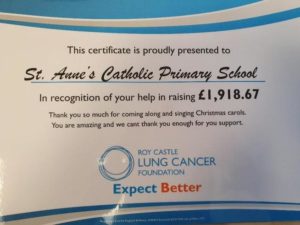 ---
Y6 STAND UP TO CANCER FUNDRAISING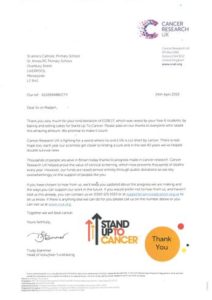 ---
NUGENT'S GOOD SHEPHERD APPEAL 2019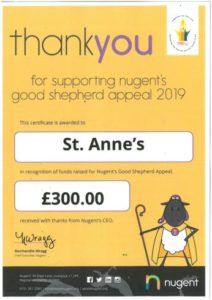 ---
READ FOR GOOD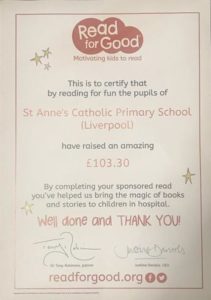 ---
POPPY APPEAL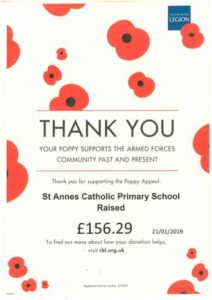 ---
CAFOD – MATCHED BY UK GOVERNMENT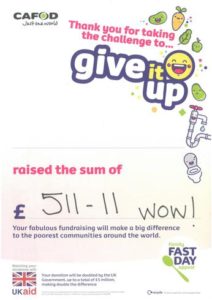 ---
BBC CHILDREN IN NEED