Our St Anne's Maths Vision
To provide solutions to many problems and have an appreciation of the beauty and power of maths to solve problems with enjoyment and curiosity.
---
Why teach Maths?
At St Anne's Catholic Primary School, we believe mathematics is an important part of children's development throughout school, right from an early age. We intend on delivering a curriculum which allows children to be a part of creative and engaging lessons that will give them a range of opportunities to explore mathematics following the mastery curriculum approach.
We believe that all children should be given the opportunity to believe in themselves as mathematicians and develop the power of resilience and perseverance when faced with mathematical challenges. We want our children to recognise that mathematics underpins much of our daily lives and therefore is of paramount importance in order that children aspire and become successful in the next stages of their learning.
---
Maths Ambassadors
Here are our wonderful Maths Ambassadors. Their job is very important in our school. They meet with Mrs Dade weekly to report on how TTRS is going in their classes, set up new battles and to help organise important events such as Maths Party Days.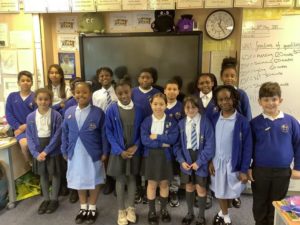 ---
St Anne's Maths Curriculum Map – 2021-2022
Download: Maths – Curriculum Map [PDF]
---
Mathematics Mastery PoS: Year 1 – 6
Download: Year 1 PoS [PDF]
Download: Year 2 PoS [PDF]
Download: Year 3 PoS [PDF]
Download: Year 4 PoS [PDF]
Download: Year 5 PoS [PDF]
Download: Year 6 PoS [PDF]
---
Maths Calculation Policy
Download: Calculation Policy [PDF]
Download: Maths Marking Policy [PDF]
Download: Mathematical Vocabulary [PDF]
---
How can you help at home?
There are lots of ways to help your child practise maths at home beyond helping with homework. Here are some suggestions:
Allow children to help with shopping at an age appropriate level i.e. handing over money, collecting change, deciding if items in a shop are good offers or not etc.
Promote a can do attitude to maths and don't allow your child to think they are not good at maths. They just need practice!
For younger children – lots of counting and courting songs i.e. five little ducks, ten green bottles. Don't forget to count backwards!
Practise times tables together, make a game out of it as much as possible, children learn more and faster if it's fun!
Involve children in cooking. Weights and times are an essential part of everyday maths.
Involve them in simple DIY tasks where measuring is a part of the job.
Play estimation games i.e. how long do you think it will take us to get there? How much do you think this weighs?
Find shapes in the environment.
There are also games available on the web – we subscribe to Times Table Rockstar's (for more information see your child's class teacher).
---
Websites to support learning at home
External Link: https://ttrockstars.com/
External Link: https://nrich.maths.org/primary
External Link: https://nrich.maths.org/primary
External Link: https://www.bbc.co.uk/teach/skillswise/maths/zfdymfr
External Link: https://www.bbc.co.uk/bitesize/subjects/z826n39
External Link: https://www.bbc.co.uk/bitesize/subjects/zjxhfg8
---
Parent Links
Download: Maths Workshop KS1 [PDF]
Download: Maths Workshop Year 3 & 4 [PDF]
Download: Maths Workshop Year 5 & 6 [PDF]