Learning Mentors – Angie and Paula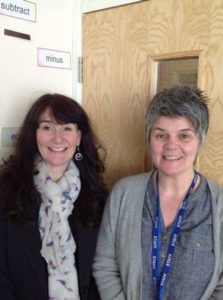 We have worked together for a number of years here at St Anne's, our job is to make sure all children are in school, on time, safe and happy. Our role is to help remove any barriers to learning that they may have, and thereby support their overall development.
We support children from Nursery to Year 6 – we do this through:
1-1 Individual support
Small group sessions
Friendship groupwork
In the classroom
Circle times
Out of School Activities
Working with parents/carers
Networking with agencies
Inviting outside initiatives/projects in
Attendance Initiatives
Working closely with all staff
Being part of SMT
Possible reasons why children may work with Pastoral Care;
They are underachieving
They are experiencing bereavement and loss
Have low self esteem/confidence
Experiencing behaviour difficulties
Are bullying or being bullied
Having a family crisis
Are new to our school
Transition through key stages
Are absent from school
Are persistently late
Need a little TLC and would benefit from Learning Mentor input
We are involved with our School Council and Breakfast club. We deliver extra-curricular activities such as knitting and textiles, Art Club, Basketball and Lunchtime Activity clubs. We also support residential trips.
We have great links with our community and we promote community harmony by maintaining our links with Children's Services, Health Services, Family Action, Housing Associations, Local Community Police Officers and Counsellors to name a few. We also support and promote community groups and projects.
We are available at the beginning and end of the day for parents/carers and children to approach us for any information sharing, advice or general updates.
Parents/carers can also contact us at the school.